Arkansas Guided Spring Snow Goose Hunts
THE HYPE IS REAL
We chase Feeds, We do not park on a given field for a month much less more then a day this is a huge advantage to booking a trip with the goose guys. Large numbers of snow geese, no limits, unplugged shotguns, high-quality electronic snow goose calls and early hunting; Arkansas snow goose hunts are tough to beat! Our snow goose hunting takes place around Mccrory, Arkansas. We recommend using shotguns with at least a 3″ chamber, whites for hunting from backboards and good camouflage clothing for your Arkansas snow goose hunt. These geese will come in hot and heavy so be prepared for a memory of a lifetime!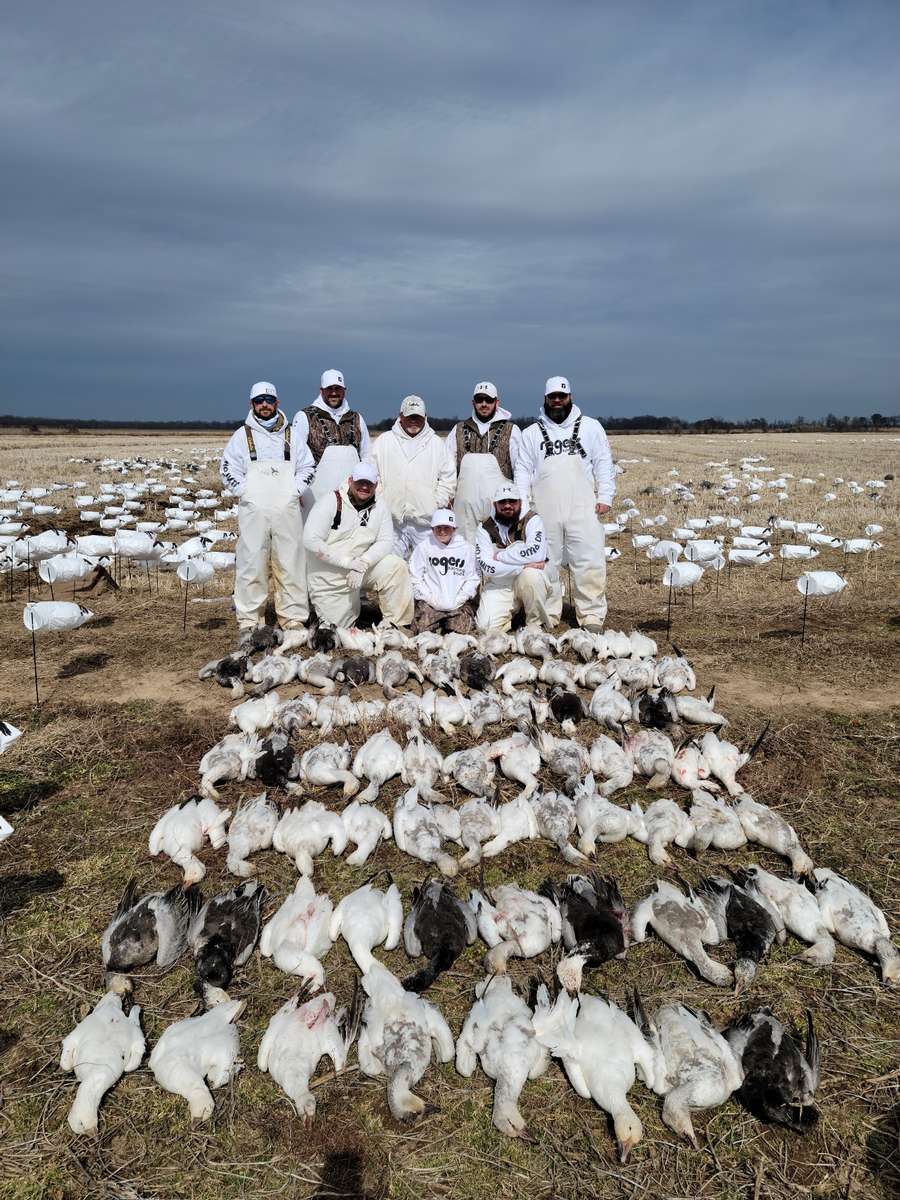 Where We Hunt in Arkansas
Our Snow goose hunts are one of a kind. We have a highly educated guide staff to accommodate your spring snow goose hunt. Our Arkansas snow goose hunting takes place in the Mccrory, Arkansas area. Large masses of migrating snows move through Arkansas. Our job is to get you under the action with a large spread of full body decoys. The Goose Guys live for Spring snow geese season. It takes passion to go after the well sought after snow goose day in and day out! Note: all of our hunts are gunning over full body snow and blue goose decoys this is a key part to the success of your spring snow goose hunt it makes all the difference when hunting snow geese.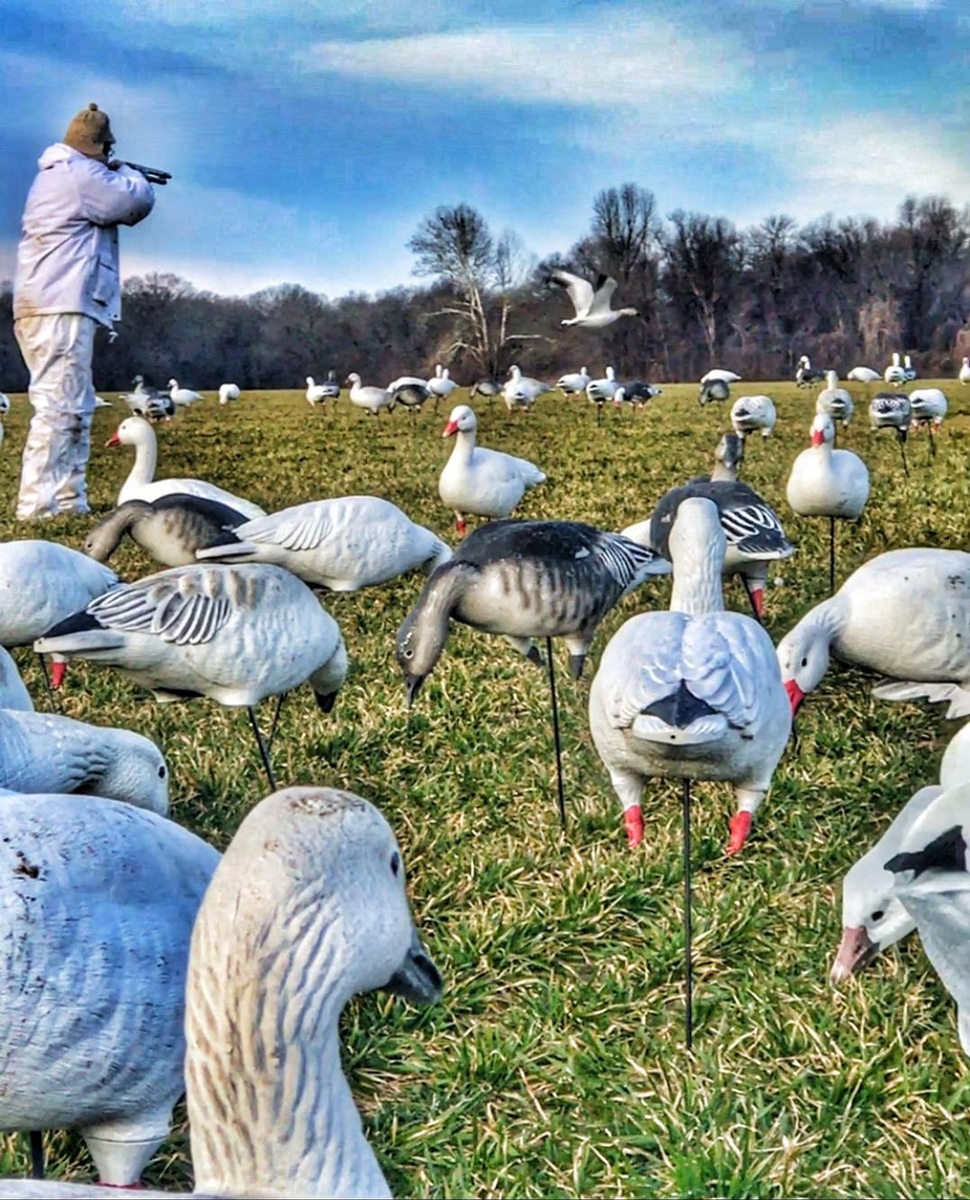 The AR Snow Goose Hunt Details
If you are looking to hunt AR snow geese you will need a shotgun with a 3″ chamber, whites for when we hunt backboards and good camo clothes. Our guide service uses backboards and panel blinds! Snow geese are on the move constantly, and so are The Goose Guys. We keep up with the migration to give our hunters the best chance to have a hunt of a lifetime. The Spring snow goose migration Is so impressive it will have you talking for weeks after.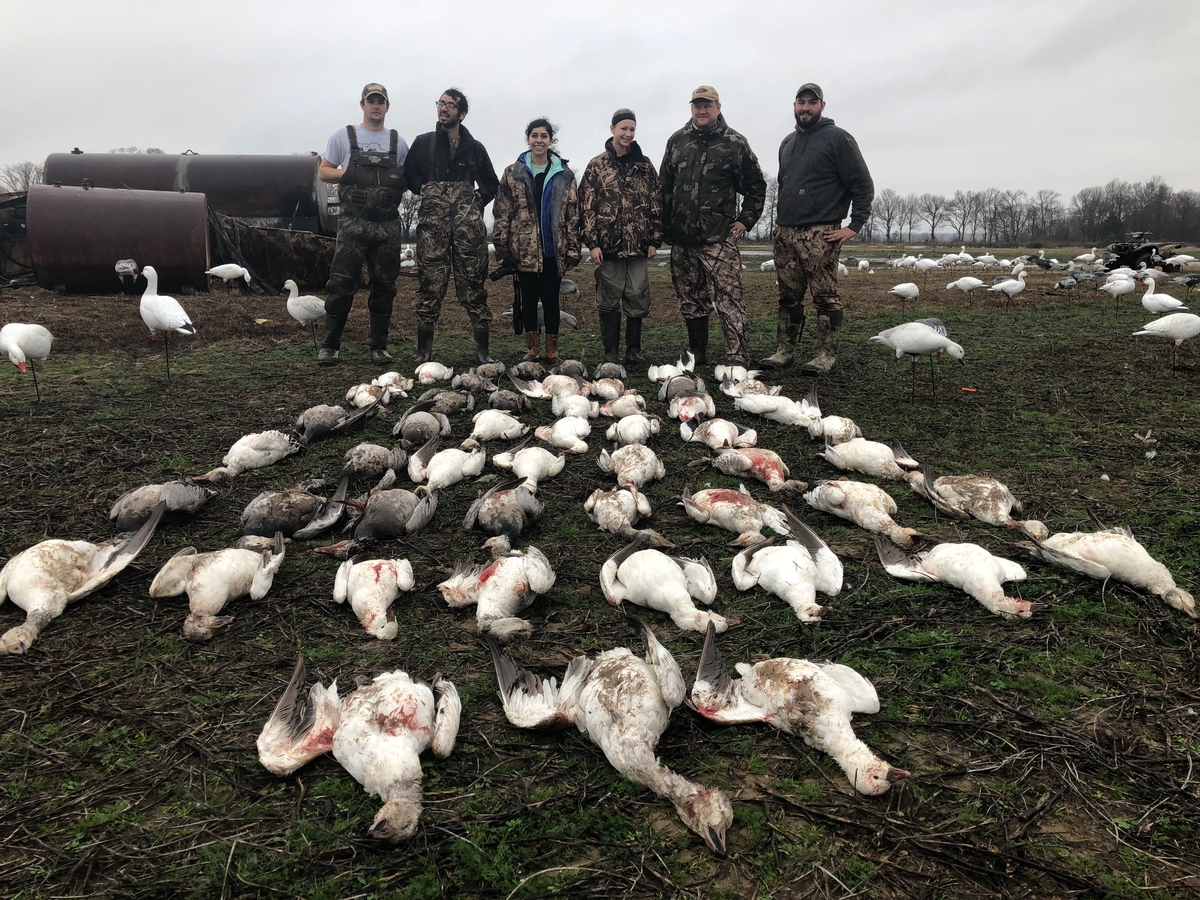 Affordable Snow Goose Hunts Arkansas
Spring snow goose hunting in Arkansas is one of the best, and most affordable hunts a person can do. There is no license cost to hunt Spring snow geese in Arkansas. The biggest thing with hunting in the Spring is the weather. It is best to pack warm clothes and boots, and a little lighter gear if the temps warm to the 60-70. Snow geese don't like snow, which is how they received their name Snow Geese! A average day of spring snow goose hunting is: get to the field early, stay till noon and take a little break. Then head back out for the afternoon. Snow geese move all day!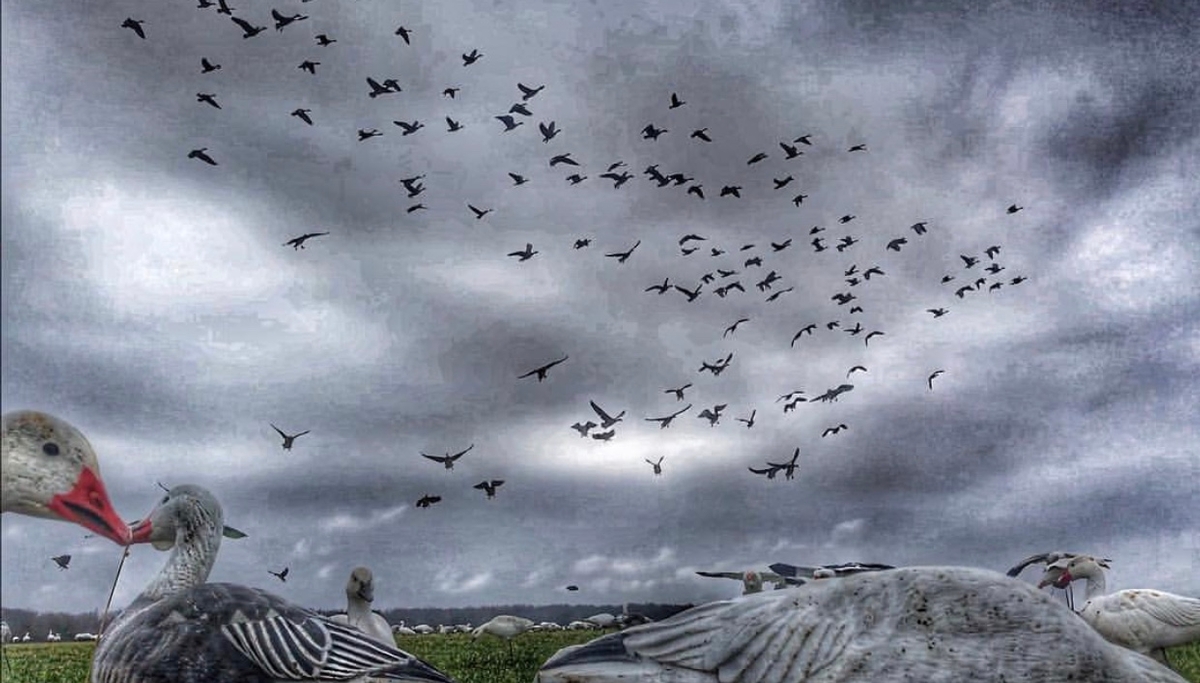 Light Goose Conservation Order Arkansas
Snow Geese and Speckle Bellies have become overly abundant and a major nuisance for farmers in Arkansas. Not only do these geese destroy crops, they are impacting critical habitat for other species. The Arkansas conservation order is an attempt to reduce the numbers of snow, blue and Ross's goose numbers. During this period, Arkansas fish and game has relaxed regulations to increase hunters harvest rates.
2023 Arkansas Goose Hunting Conservation Order Seasons
Feb. 1-3, 2023
Feb. 5-April 25, 2023
Special regulations during this period include:
Shooting hours are extending by 30 minutes.
No limits on geese
Shotgun plugs are not required
Electronic calls are permitted
All hunters must get a free registration permit by calling 800-364-4263 Monday-Friday, 8 a.m.-4:30 p.m.
How to Purchase an Arkansas Waterfowl Hunting License
The Goose Guys Waterfowl Hunting LLC
201 East Highway 64
McCrory, AR 72101